A large portion of UrushiPen.com's traffic is from referrals. We have finally established a means for referrers to get compensated for the great things they do for us.

Join UrushiPen's Affiliate Program today. If you have a large social network and are looking to monetize, then our affiliate program could be for you. It is free to be an affiliate.
We offer:
10% Commission on Every Sale (Reference table below for how it translates in commission amount)

Promotions on Products

60 Day Cookie Duration (Commission is still rewarded for customers that come back within 60 days of the initial referred visit)
What 10% Commission Means to you (breaking it down for those who don't like math):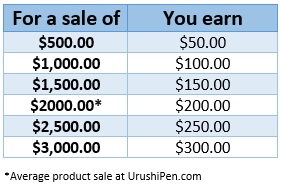 A minimum sale of $100 is required to obtain commission.
For orders that were placed via the Payment Relief Plan, commissions will only be paid out when the order was paid out in full (after the installments have all been paid off).