This year we've been quiet so far but only because we were working hard on further improvements and new features for you. Read ahead and find out all the cool stuff Affiliatly has released since the last time you heard from us!
1. New currency: Egyptian pound
Now our fellows on the Republic of Egypt have their currency (EGP) fully supported.
You can set your desired currency at the general settings.
2. Affiliates can connect multiple accounts
Affiliates with accounts in different programs within the Affiliatly platform can now connect their accounts and easily switch between them.
3. The two tier notification email is now triggered when you are manually adding affiliates
In the past, a notification would only be sent when the two tier affiliate has used the two tier link of other affiliate and signed up for the program. Now it will send it since the moment you mark the affiliate as two tier.
As pre-requisite, you would need to enable the "Two tier" option. You can find this under Settings > General > option "Two-tier affiliate program"

Then you can look for the affiliate you want to mark as Two tier  under the Affiliates tab, then click at the gear icon next to the affiliate's information to bring up the details popup: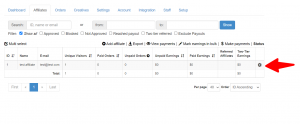 Om the details popup that appears, as this feature is enabled, there will appear a "Two tier" tab where you can mark the affiliate. When you do it, the email notification will automatically be triggered.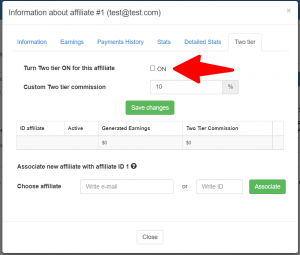 4. "Shopping with affiliate" type of toolbar can be now shown in your store
When this option is enabled, customers will see a wide bar at the store showing the name of the affiliate's name whose link they clicked on to land into the store.
In the case of Shopify and Bigommerce, using this feature it's as easy as enabling it in Affiliatly and clicking on a button for the code to be auto added into the store. For other platforms the code still needs to be inserted manually.
This is available to you at Settings -> Customization -> "Shopping with" toolbar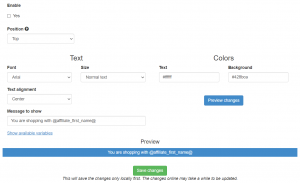 5. New setting: ability to change the highest priority from the Coupon code tracking to Email tracking
We added an additional option for your account which makes the email tracking with higher priority over the coupon code one.
Normally, coupon codes have priority over email tracking. This now can be modified so if a customer assigned via an email with an affiliate (A) makes a purchase using the coupon code of another affiliate (B), the first affiliate (A) will get the sale.
This setting is available to you at Settings -> Tracking -> Email (having it enabled) -> Settings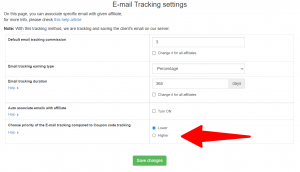 How do you like the new feature releases? Leave us a comment and let us know. We're eager to hear! Your feedback will help us continue to make Affiliatly even better. Thanks for choosing us!