SKU tracking allows you to set different commissions on an SKU basis, calculate royalties and allow or disable certain products. This tracking method works together with the main ones (link, coupon code and QR code tracking) and allows you to create additional rules for the tracking of the sales of specific products in your store.
To enable this tracking method, go to Settings > Tracking > Methods for tracking affiliated users and check the box next to Tracking by SKU.


Save the changes and then go to SKU Settings.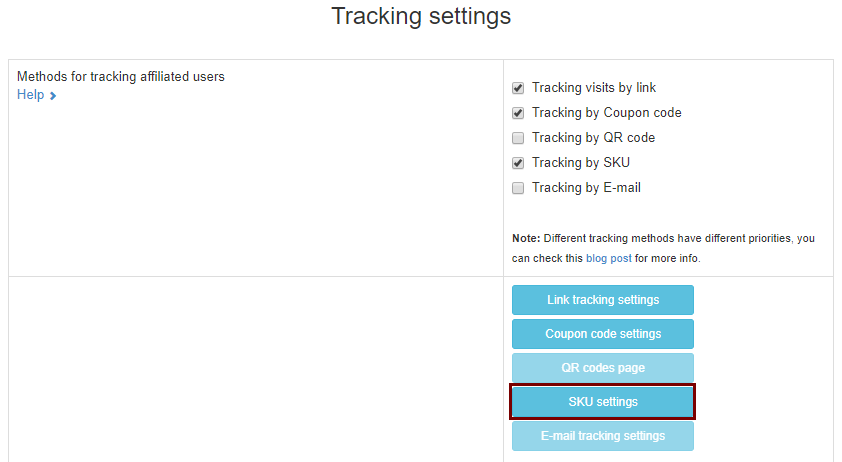 In the SKU settings page, you will see three tabs: Allow or Disable, Custom Commission and Royalties.


Allow or Disable products
In the Allow or Disable tab, you can choose which products in your store are eligible for commissions and which – not. You do not need to use both fields, if you list the allowed products, all others will be disabled and vice versa. Separate the SKUs by commas.


Set Custom commissions for products
You can set custom commissions for particular products in the Custom Commission tab. Click Add New and enter the SKUs of the products and the commission (as a percentage or a flat rate). If you want this commission to be applied only for some of your affiliates, enter their IDs in the Affiliate IDs field. If you want it to be applied to all affiliates, just leave this field empty. Do this for all groups of products with different commissions.


Set Royalties
To set up royalties, use the Royalties tab. Royalties are often used when the author/designer needs to be paid for each sale of their products.
Click the Add New button below the table and enter the SKUs, commission percentage or a flat rate commission and the IDs of the affiliates (you can have only one product and one affiliate listed). The affiliates will receive this commission whenever someone buys one of these products, regardless whether the order is referred or not.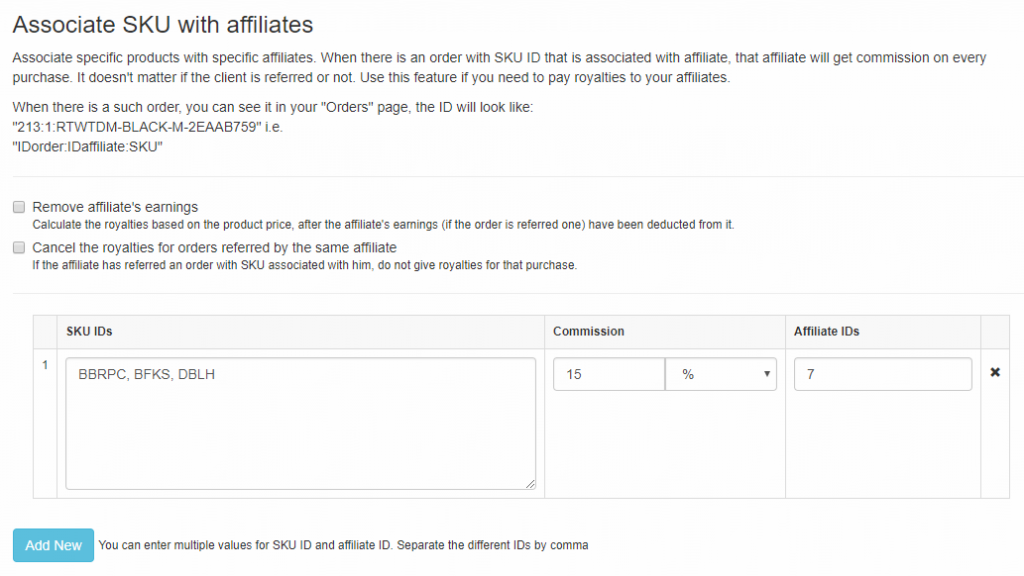 Notes:
When entering the SKUs and affiliate IDs, you need to separate them with commas.
If you want Affiliatly to check for variations of the SKUs in the referred orders, enable the Check for SKU variations option.