Greetings to all our incredible community!
Here are the latest offerings from our development team to help you having the best possible affiliate marketing program for your business:
1. Shopify automatic redirect sync functionality
This feature passed the beta stage and has been released for all Shopify users!
We have a full reference guide available to learn this process here.
2. Stop tracking existing affiliates custom
This feature passed the beta stage and has been released for all Shopify users!
You can learn more about it here.
3. Warning in the affiliate's Dashboard about earnings being subject to change
This is a small change that represents a big aid for your peace of mind. In our experience, there have been many times that an affiliate appears wondering about earnings stating that they had unpaid earnings that appeared to be gone or even going negative. All caused by a classic misunderstanding that is definitely part of the affiliate marketing process: if the order they referred got cancelled or refunded then the referral becomes unsuccessful and it cannot be paid.
Because, there's no business in paying commissions for a sale that ended up never being successful, right?
We all understand that it makes sense but we also aim to lower both the affiliate and you the odds of falling into this misunderstanding so we added a really comprehensive disclaimer for them to be aware of that ultra important rule of the game:

This also performs very well along with the contact button we recently added for the affiliates to communicate with you quickly!
4. Start of the beta tests for the upcoming dashboard design
Yes! It's happening! We've invested so much time into giving you stability, efficiency and tons of configurability, but we finally reached that desired moment where we're also renewing our internal looks. We can't say much yet about it because there's so much to do. But for those who the first looks of this new phase of the design is enabled, it will be under Settings -> Customization -> Design version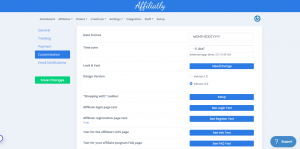 We hope that this update helps reaffirming once again our commitment with adding value to your business.
If you wish to try the new design, please reach out to our support team and we will enable the new design for your account (you can revert back to the classic one at any time).
Thank you for reading and if in any case you need help with Affiliatly our wonderful support team is waiting to read your message.